Dark Gray Alcantara Black Steering Wheel Cover for Cadillac ATS 2013-2015 CTS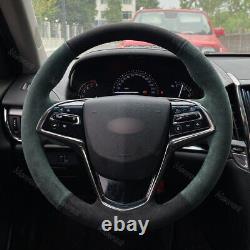 In order to fit your steering wheel well, Do not remove the original leather before installing. This cover is suitable for car models. A+C: Dark grey Alcantara #9002 B: Dark green Alcantara #9073 D: Dark green thread. A: Blue marker B+D: Dark grey Alcantara #9002 C: Dark grey perforated Alcantara #9002 E: Blue thread. If you want to change the color for A B C D, please contact our customer service when you order. Otherwise, we will send the picture default style! Q: Do i need to remove the original leather of the steering wheel? A: No, you needn't, if you do, the steering wheel cover will not fit the steering wheel prefectly. Q: Color choice is for thread or steering wheel cover? A: Color choice is for thread.
Q: How to install it? A:We uploaded installation videos on YouTube, search "Ouyue MEWANT" to watch it. Q: How do i know if this cover is suitable for my steering wheel? A: Because of the car model names are different in each countries, so the car models we offer are only a reference. Please check the original steering wheel photo, make sure it's same with your steering wheel.
We will reply your message within 24 hours. And if you decide to return the item, there are 15 days for you to process from the date it was received.

---