VW GOLF Custom Steering Wheel MK4 GTI R32 BORA PASSAT RACING R8 STYLE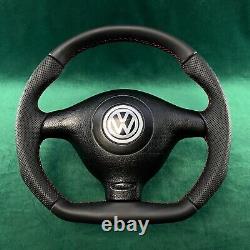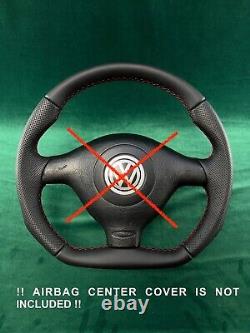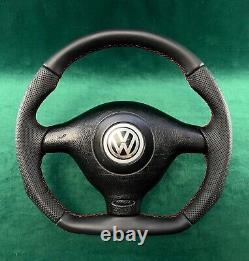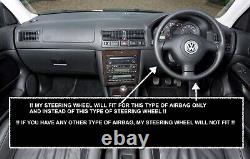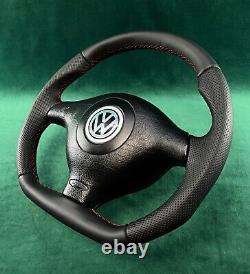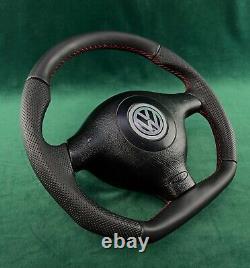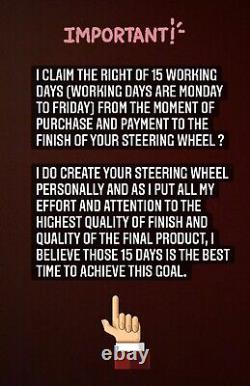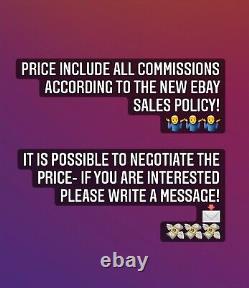 Golf MK4 - GTI R32. Seat Leon MK1/ Toledo MK2. PLEASE REMEMBER - YOU MUST HAVE THE SAME TYPE OF AIRBAG AS ON MY PICTURES!
If you have your own ideas please send me a private message and I will assist you with that matter. Smooth leather covering all of the steering wheel. Perforated leather covering all of the steering wheel.
Perforated leather on the sides, smooth leather on the top and the bottom of the steering wheel. Smooth leather on the sides, perforated leather on the to and the bottom of the steering wheel. Smooth leather covering all of the steering wheel apart from the bottom covered with perforated leather. Perforated leather covering all of the steering wheel apart from the bottom covered with smooth leather. Black Alcantra covering all of the steering wheel.
Perforated or smooth leather on the sides, black Alcantra on the top and the bottom of the steering wheel. Black Alcantra on the sides, perforated or smooth leather on the top and the bottom of the steering wheel. As an option, I can make a sport's strip on the twelve o'clock in red, black, blue, navy blue, yellow or orange.
Please choose the colour of the tread as well : red, black, yellow, green, violet, blue, navy blue, grey, silver, white or orange. It is possible to mix the maximum of three thread colours within one stich, i. E Audi S-line: white + black + red.
INFORMATION FOR BUYERS OUTSIDE THE EUROPEAN UNION - USA/CANAD/AUSTRALIA/SWITZERLAND/NORWAY/ASIA/UK AND OTHER COUNTRIES. The cost of the product is provided on each receipt.
If there is any Bank Holliday in Poland the turnaround time will be extended. You may as why 15 days? I do create your steering wheel personally and as I put all my effort and attention to the highest quality of finish and quality of the final product, I believe those 15 days is the best time to achieve this goal.
Airbags, Multifunction buttons, radio/stereo controls, cruise control buttons, plastic covers, shifting paddles. AIRBAGS/CENTER PIECES/CENTER COVERS ARE NOT INCLUDED!
I sell only steering wheels. If you see shifting paddles/multifunction buttons/cruise control buttons/radio stereo controls in the picture, it does not guarantee that they are working and in good condition! THEY ARE NOT PART OF THE SALE, ONLY AN ADDITIONAL FREE STEERING WHEEL! THESE ITEMS ARE NOT CLAIMABLE FOR ANY CLAIM! If the steering wheel has plastic or rubber structural elements, then know that it may have signs of wear - discoloration, scratches, dents and other imperfections - because these are used steering wheels that have been modified!
Each steering wheel is modified - it was cast from the mold in one piece. The steering wheels ARE MADE TO ORDER SPECIALLY FOR YOU - so you have to choose the type of leather/alcantara/sports stripe on top and the color of the thread. If you have chosen a steering wheel made of Alcantara, remember to wear gloves because Alcantara absorbs dirt very quickly! THESE ARE NOT ALIEXPRESS STEERING WHEELS! This is my job, which I do especially for you, so please appreciate that you get a made-to-order item, not a product taken off the shelf with poor quality!
When taking photos and videos, I try to capture the colors as they really are. If I use a blue thread, it is simply blue - it does not accept the names of the car color palette because the thread colors are made to match the color of the materials, NOT THE COLOR OF YOUR CAR'S BODY. The leathers I use are of the highest quality! They are produced in Italian and German tanneries for brands such as Porsche, Audi and Lamborghini. The new leather on the steering wheel will differ from the one on your old steering wheel because it will be matte and will not shine from wear and dirt.
The threads used for your steering wheel are produced by the German company Amann - one of the best companies making threads for the automotive industry. These are synthetic threads, so they are very strong and of the right thickness. Does not make heated steering wheels! If the factory steering wheel was heated, it will lose this function after modifications.
Please keep this in mind when ordering my steering wheel! I always try to choose the right courier to be the best. I react only in case of loss of the parcel because only in this case I have any possibility to help you. I do not take responsibility for unprofessional assembly of your steering wheel.
If you do not know how to replace the steering wheels or shifting paddles and other accessories for the steering wheel, please go to a professional because I do not take responsibility for damage caused by improper assembly. In the description, it accurately states that my steering wheel fits some car models. If you have an XX car and you think it will fit the XY car, you do it at YOUR OWN RISK!
IF YOU DON'T KNOW IF THIS STEERING WHEEL WILL FIT YOUR CAR, SEND ME A PICTURE OF YOUR STEERING WHEEL! Do the elements like multifunction buttons, shifting paddles or cruise controls buttons work? - I sell only steering wheels. All of the above elements are added as an addition thus I cannot guarantee their performance.
Is the air bag included? I sell only steering wheels thus the air bag is not included.
What is the diameter of the steering wheel? Is this steering wheel smaller? - The diameter of the steering wheel is as per worldwide standards which is 360-370 mm from side to side and about 340 from top to bottom. Could you make my steering wheel a little bit thicker?
- All of my steering wheels are full reshaped and thicker. Should I send you my old steering wheel? I don't need your steering wheel as core!
You don't need to send back your steering wheel, like on other auctions. Are the plastic bits on the steering wheel used? All of the covers, easels and end caps are used thus they may have some little marks or decolouration. Nevertheless, all of the above are placed behind the steering wheel thus unnoticeable.
You can make me the same steering wheel as in the photo I send you. I have a specific model for making my steering wheels. They are aesthetic, functional and easy to use. Also, I do not make other models than those I offer on my auctions. Can I send you may steering wheel so price will be lower? Does my airbag fit your steering wheel? Than all details will appear. You can use zipcode as well. I can't because these are the rates provided by a given carrier. Can you send me a low value package (outside EU or Schengen area)? This item is in the category "eBay Motors\Parts & Accessories\Car & Truck Parts & Accessories\Interior Parts & Accessories\Steering Wheels & Horn Buttons".
The seller is "reggiescustomwheels" and is located in this country: PL. This item can be shipped worldwide.
Brand: Volkswagen
Type: Steering Wheel
Manufacturer Warranty: No Warranty
Color: Black
Item Diameter: ABOUT 360MM
Items Included: Steering Wheel Cover
Surface Finish: LEATHER / ALCANTARA
Material: Leather

---